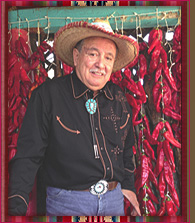 The Food Of New Spain
Casa Chimayo, in Santa Fe, New Mexico, is a family owned restaurant with a unique vision - to promote the history and culture of New Spain, or Nueva Espana, through their culinary heritage, honoring their ancestors with every meal served.

They love to tell how the Spanish explorers traversed the ocean looking for gold and the fabled city of Cibola - How they came to the New World and melded with the native Tlaxcala and Aztec Indians to become Espanoles Mejicanos. This is also the story of El Camino Real, the gateway from Mejico to Santa Fe and Northern New Mexico and the importing, exporting, and fusing of culinary ideas and traditions. Every recipe on Casa Chimayo's menu honors the unique culture of Nueva Espana. The food is made with lots of love, fresh, local ingredients, and prepared authentically.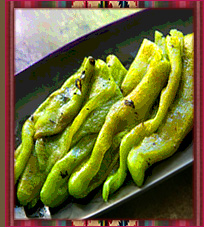 Don Timoteo, a native of Chimayó and the patriarch of the restaurant, loves to converse with guests about New Mexico's history, culture, arts, music and, of course, food! Don Timoteo wants his guests to experience the Nuevo Mejicano food he grew up eating, prepared as it was in his grandparent's kitchen.

About Family and Tradition
Says Don Timoteo, "Growing up in Chimayo was an experience not to be forgotten. Our grandparents, aunts and uncles taught us our traditions and culture. Grandpa put us to work planting chile, corn and calabacítas when we were just a little bit taller than the chickens running loose around the farm."

"Our families helped to make the Chimayo chile famous. The green chile is roasted and peeled for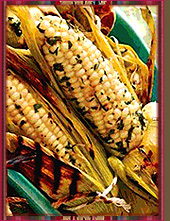 there is no better way. The red chile is allowed to dry on the vine and is not picked until it is a deep, rich red color. The entire family gathered on Thanksgiving, at the adobe home of our great-grandparents, where aunt Mercedes Trujillo prepared a feast: chile, beans, enchiladas, morcillas, carne seca, pan, tortillas, flan, sopa and much more. These foods evoke warm memories and traditions that we sometimes forget in our busy world. Here at Casa Chimayo we continue to give thanks and celebrate the food, customs and traditions that were handed down from our ancestors."

A Unique Culinary Heritage
Hernan Cortes and his Tlaxcalan allies defeated the Aztecs in 1519. With their arrival in the new world the Spanish brought cattle, horses, sheep and goats. Maize (corn) was the staple food in the Aztec diet, and was probably first domesticated in Mejico. The Spanish were astounded by the variety and sophistication of the Aztec diet which included turkeys, ducks, deer, rabbits, iguana, fish and shrimp. Vegetables included various varieties of chiles, tomatoes, limes, cashews, potatoes, and sweet potatoes. Chocolate was discovered in Mesoamerica with the colonization of the Americas and remains one of the greatest gifts to the world.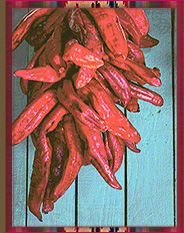 In the Southwest, the Native people refer with great reverence to the three basic foods in their diet as the "Three Sisters": beans, corn and squash. The Native diet consisted of wild game such as deer, bison, elk, and smaller game like rabbits, fowl, and fish. Vegetarian fare included corn, beans, acorns, pinons, berries, wild greens and wild potatoes.

New Mexico native cuisine, or as Don Timoteo refers to it, "comida de Nueva Espana" came out of this blending of cultures, foods, and traditions, resulting in a culinary experience like no other. Casa Chimayo serves the authentic Nueva Espana dishes - red and green chile, "frijoles de la olla" (whole pinto beans), posole, flour tortillas, tamales, atole, calabacítas, and more - each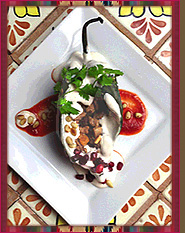 prepared "abuelita style" - just as Don Timoteo likes it.

Casa Chimayo Chile
Chiles are not indigenous to New Mexico. It is believed that Coronado brought chiles from Mexico during his expedition in 1540. Today chile has become synonymous with New Mexico - the greatest producer of chile. Casa Chimayo uses chile grown throughout New Mexico in small agricultural communities including Chimayo, Espanola, Velarde, Taos, and Los Lunas.

In late summer, the aroma of green chile roasting perfumes the air all over New Mexico. Families bring together its older and young generations to roast and hand-peel the green chile, and freeze enough to last until the next crop. The green chile is used to make the delicious green chile sauce served on Casa Chimayo's blue corn enchiladas, and hearty green chile stew. The red chile is not harvested until it has reached its peak. It is strung together in ristras, which are not just decorative, but also used throughout the year to produce a rich, velvety, red chile sauce used in enchiladas, as well as posole, and carne adovada.

As Featured on Diners, Drive-ins and Dives
Casa Chimayo's traditional approach to preparing Nuevo Mexico native cuisine and Don Timoteo's insistence that food be prepared "the right way" is documented in a recent segment on Food Network's popular show "Diners, Drive-ins and Dives." Come taste why Chef Guy Fieri chose Casa Chimayo from among hundreds of restaurants across America for this episode titled "Aces Of Authenticity."