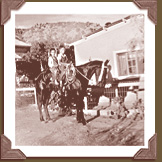 Growing up in Chimayo
was an experience not to be forgotten. Our grandparents, aunts and uncles taught us our traditions and culture. Grandpa Severo Jaramillo would put us to work planting chile, corn and calabacítas when we were just a little bit taller than the chickens running loose around the farm. We learned to chase goats, sheep and other farm animals and herd them into their corrals. As we got older, we were sent to St. Michaels. "La escuela que yo estimo" he would say. We still had to work on the farm. Grandpa bought us a small car (I was 12 and my brother Louie was 10), so that we could drive to Chimayo from Santa Fe and work on weekends. We would start at 5:30 a.m., rest at noon, and continue working until Grandpa got tired. When it got dark, he would turn on the lights to the Studebaker pickup to keep us working.

Our Grandma, Tita (Teresita) Jaramillo, insured that we learned what I refer to as "Abuelita Theology" - a belief that God would require us to be kind, honest, humble, brave and true to ourselves and to our families. Our Aunt Mercedes Trujillo, Great-Grandmas Francisquita and Epimenia told us stories of Juan Tonto, which were passed on from their grandmothers. I have told these stories countless times to my daughters and their friends.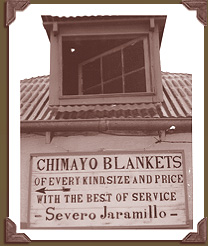 We looked forward to winter because it was a time when we would not have to work on the farm. Still, when winter came, we could not escape the will of our grandparents. We had to learn the rhythm of the loom. Severo and Grandma Tita wove fabulous Chimayo blankets. Grandpa Severo's weaving shop was featured in National Geographic. The National Geographic photographer wanted my mother (Elena Jaramillo Cordova) to comb her hair in braids and to place a blanket around her shoulders. She refused so they took her picture sitting on several blankets. She was 9 years old at the time.

My Dad's family was from Truchas
Grandma Sophia Archuleta Cordova was the first female Superintendent of Schools for Rio Arriba County. Grandpa Timoteo Cordova was a farmer, rancher and owned a mercantile store. They built a house in Santa Fe in 1939 in order (as Grandma Sophia would say) "to be close to the Governors so that they would not forget the nortenos." This home is now the restaurant Casa Chimayo. We did not get to know our grandparents on our father's side as Grandpa Timoteo was in an accident while working in the defense plants in Alameda, California. My dad, Willie Cordova, was in World War II in Germany at the time of the accident. He was part of the second wave of the Normandy invasion. Because of his experience there, he would say that it is better to be second than first. He returned from WWII to find his mother very ill. She hoped that my dad would marry my mom, the daughter of a "muy buena familia."

Our families came from Zacatecas with Juan Paez Hurtado in 1695. They founded la Villa Nueva de Santa Cruz de los Espanoles Mexicanos del Rey Nuestro Senor de Carlos Segundo. The villages of Santa Cruz, Quarteles, La Puebla, Chimayo, Rio Chiquito, Quemado (Cordova),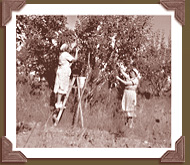 Cundiyo and Truchas continue this day to celebrate our heritage. The church in Truchas was built almost 100 years before the Santuario de Chimayo. My grandparents Matias and Andreita Cordova are buried at the church in Cordova. My Dad and his brother, Martin, were raised in Truchas. They would take us camping and fishing, along the Rio Truchas, and Rio Medio. Martin was a very good fisherman, the best my Dad would say. My brothers and I take our children to the same places, and tell stories that were told to us by our parents.

Our customs and traditions continue...
through the foods of our childhood. Our families helped to make the Chimayo chile famous. The green chile is roasted and peeled for there is no better way. The red chile is picked off the plant when it is dry. Every year on Thanksgiving we celebrated in Centinela at the adobe home of our great-grandparents Isidoro and Francisquita. Aunt Mercedes Trujillo prepared a feast: chile, beans, enchiladas, morciallas, carne seca, pan, tortillas, flan, sopa and more. All our cousins - Carmen (known as Betty to us), Shirley, Gracie, Patsy, Irvin, Walter, Celina's kids, Maggie's kids and many more - would be there. Our Uncles Ross, Jacobo, and Macimo; our aunts Tillie, Bell and Silvia; and even Father Roca would enjoy some of the best foods from their childhood. The foods were prepared with lots of love, and here at Casa Chimayo the love continues.

My mom will turn 90 this year. We cook her way, the "Abuelitas' way," with lots of love.